Last Updated on December 11, 2019
Festive Christmas Ice Cream – the perfect alternative to Christmas Pud.
Guest Feature by Adrian York:
I was very excited to be asked by the lovely people at Currys to review the Kenwood IM200 ice cream maker on behalf of London-Unattached. The challenge was to create a seasonal Christmas ice cream!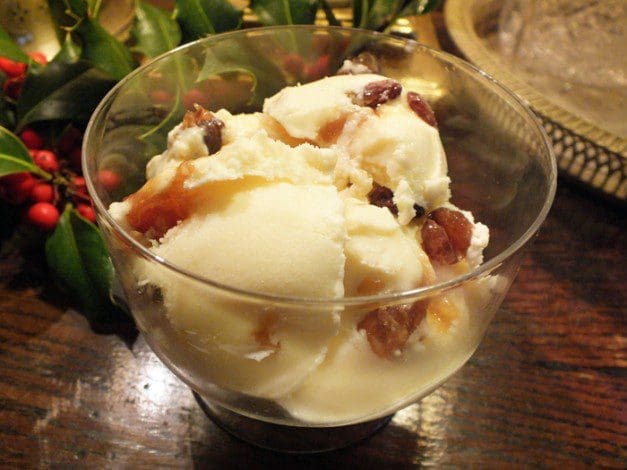 Christmas Eve chez the York family is traditionally spent downing mince pies and Advocaat whilst waiting for the kids to drop off to sleep so Santa can work his magic. It's a magical moment of the year when the world seems to stop and take a deep breath and so it became the inspiration for my Yuletide Ice Cream. It is perfect on its own or to accompany Christmas pudding. The 'sweet cream' base for the ice cream comes from the Ben & Jerry's Homemade Ice Cream Dessert Book.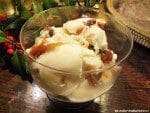 Christmas Ice Cream with Mincemeat and Advocaat
Ingredients
1 1/2

cup

Mincemeat

6

tablespoons

Advocaat

2

Eggs

3/4

cups

Sugar

2

cups

Double Cream

1

cup

Milk
Instructions
Place your ice cream maker bowl in the freezer to chill down at least 24 hours in advance of preparation. At the same time spread the mincemeat out on a foil-covered baking tray to a thickness of 1 cm. and then seal it off with cling film-place in freezer

Whisk the eggs in a glass mixing bowl for two minutes until aerated, then slowly add the sugar whilst whisking for another minute. Blend in the double cream and milk. Switch on your ice cream maker with the frozen bowl inserted and pour the sweet cream base into the bowl. Leave to blend and chill for approx. 45 minutes.


Add the Advocaat and continue to blend for another 5 minutes. Put the mix into your freezer container.



Take the mincemeat out of the freezer and then add bite-sized chunks to the ice-cream blend and mix thoroughly.

The Kenwood ice cream maker works really effectively, with some good design touches such as the chute for pouring the ice cream blend into the bowl and is easy to clean and assemble. So I'd like to say a big seasonal thank you to the people at Currys for sending me the machine to review.
Editors Note: Even I am tempted by this lush Christmas Ice Cream. And the Kenwood ice cream maker makes it all seem so easy. It's a veggie-friendly recipe, so why not try!
Looking for something to make this Christmas? Why not pin this post for later!