Last Updated on November 27, 2020
Easy Pheasant Recipes – Pheasant Breast in White Wine:
Skip straight to the recipe for Pheasant Breast in White Wine
My earliest memory of eating pheasant comes from a childhood in Norfolk. My father was the village GP and, growing up in the 1960s and 70s in the countryside was a far cry from today's high street offerings. It was an era when much to my mother's disgust, local farmers would turn up on the doorstep with a freshly shot brace of pheasant. Not only did we have to hang the birds, but my mum was tasked with drawing and plucking the birds. Luckily she soon discovered that the kindly lady who came in to clean the surgery was both willing and able to do both tasks for a small thank-you. I remember feasting on pot-roast pheasant, loving the rich flavour which was quite unlike anything else I'd ever tried. We didn't have a stock of pheasant breast recipes as the idea of having just pheasant breast never crossed my mind, but then, that would have involved my mother in more butchery.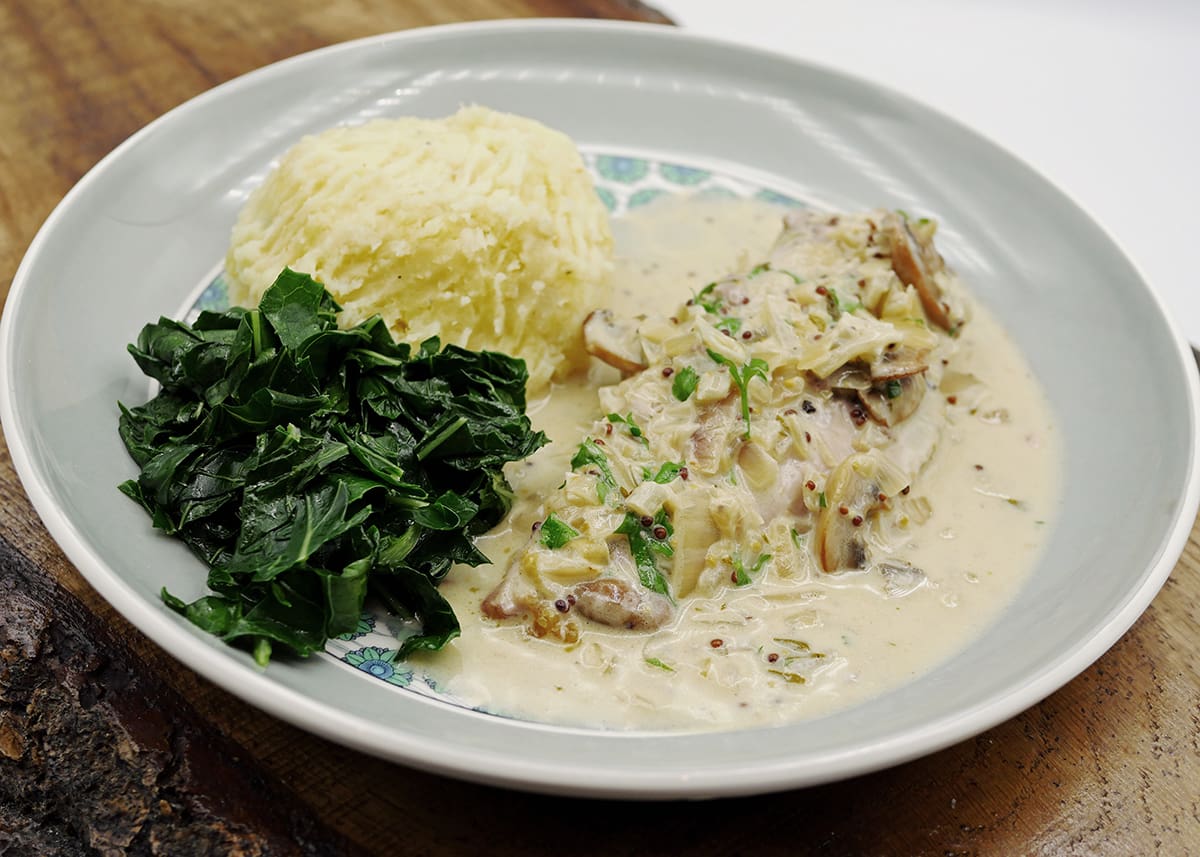 Now, pheasant breasts are widely available from good supermarkets, game butchers and from online suppliers like Wild and Game a non-profit organisation with the main aim of introducing the British public to the great taste of game meat. I was lucky enough to be sent a pack of four pheasant breasts (enough for two generous portions) and this recipe for pheasant breast with white wine, cream and mushroom sauce is the result. One of the challenges of cooking meat off the bone, particularly game which is low in fat, is that it can quickly become too dry. So, serving it with a rich creamy sauce is a good way to keep the meat moist and tender.
The cream, mushroom and white wine sauce I've used here is something which works well with chicken breasts too, with firm white fish or even with pork tenderloin. You can mix it up a bit by leaving out the mushrooms and adding more mustard. For me though, this version with a generous handful of buttery button mushrooms adds a touch of umami flavour to the sauce which contrasts well with the gamey meat.
I've served my pheasant breast recipe with buttered kale and mashed potato but, they'd work well with any seasonal autumn or winter vegetable (even buttered Brussel sprouts). Next time I'll be cooking up a batch of my spiced red cabbage as an accompaniment and serving with sauteed potato cubes for a contrast in texture and flavour.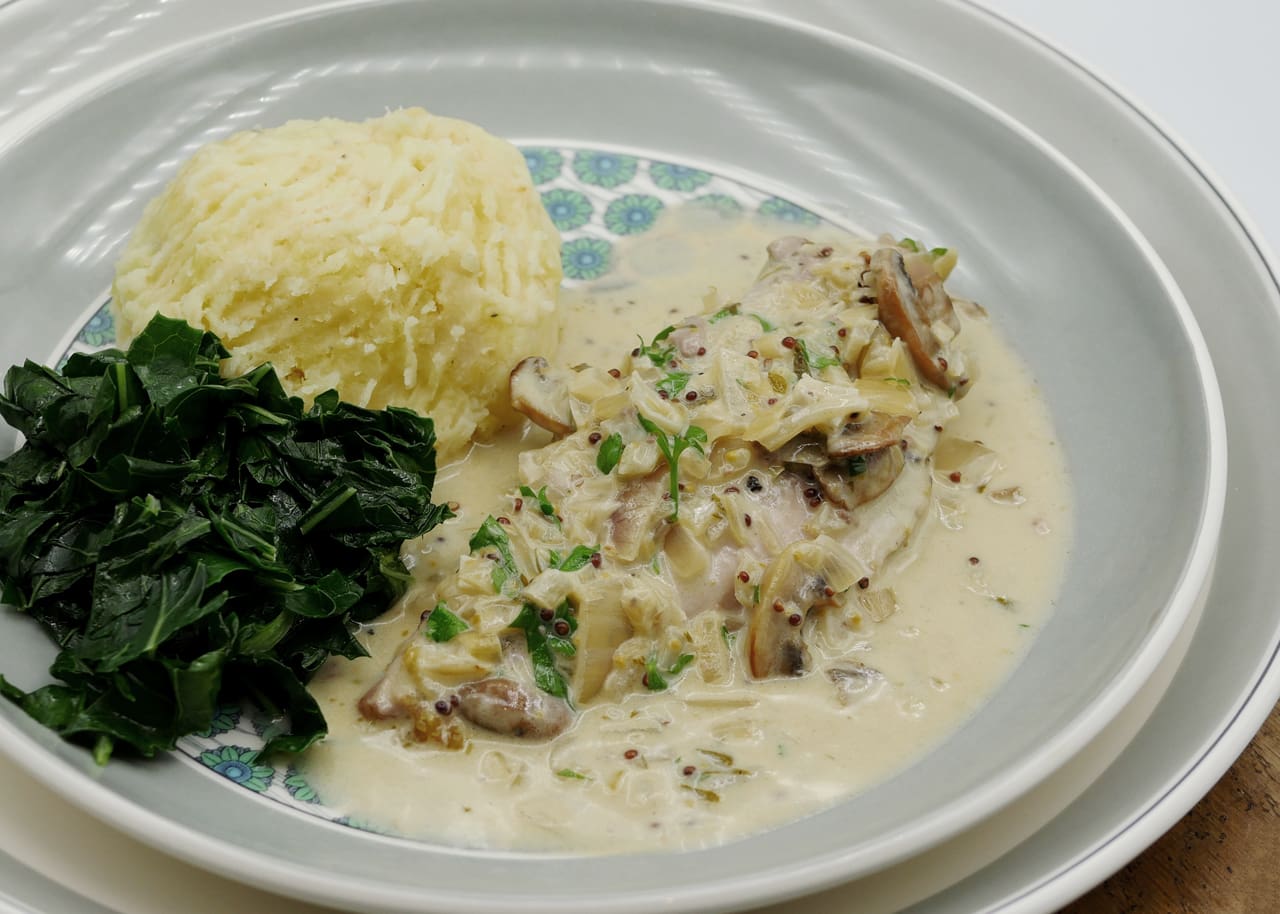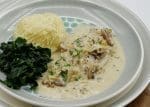 Pheasant breast recipe with white wine and mushroom sauce
An easy recipe for pheasant breasts in a creamy white wine, mustard and mushroom sauce
Course:
Main Course, Main Dish
Keyword:
easy game, Pheasant, pheasant breast recipe
Ingredients
Pheasant Breasts
4

Skinned Pheasant Breasts

If the pheasant breasts are not skinned, just make sure you cook them skin side down till the skin is golden

20

g

Butter

15

ml

Olive Oil

Pepper

To season
White Wine and Mushroom Sauce
50

ml

Dry White Wine

50

ml

Chicken Stock

2

Banana shallots

Finely chopped

50

ml

Double cream

100

g

Button mushrooms

Sliced

40

g

Butter

1

tsp

Grainy mustard

Salt and Pepper to season
Instructions
White wine and mushroom sauce
Gently pan fry the mushrooms in 20 g of butter and put to one side

Soften the shallots for 5 minutes in 20 g of butter

Add the wine and stock and bring to simmering. Cook for 10 minutes to reduce the liquid by about 50%

Add the mustard and stir through

Add a couple of teaspoons of the reduction to the cream and stir through. Then, pour the cream mixture into the pan and heat through carefully. Continue to heat, stirring constantly, till the mixture is around the thickness of double cream.

Stir through the mushrooms Season with salt and pepper and keep warm while you cook the pheasant breasts.
Pheasant Breasts
Season the pheasant breasts on both sides with a little pepper

Heat the remaining butter and the olive oil in a large skillet, till foaming.

Add the pheasant breasts and cook on each side for 3-5 minutes. Check with a skewer that they are cooked through. Allow to rest for 5 minutes

Serve the pheasant breasts smothered in mushroom and white wine sauce
Recipe Video
This is a delicious and easy recipe for pheasant breasts. If you want to prepare in advance you can make the reduction for the white wine sauce and pre-fry the mushrooms so that the final cooking takes less than fifteen minutes. And, for that reason, I'd recommend the dish as a good winter supper party option. Finally, did you know that some game birds can help improve your mood? And, for someone like me, with a slow-acting thyroid, can improve conversion of T4 to T3 (and so help improve thyroid performance). It's all to do with the level of selenium in pheasant and partridge – about four times the level found in chicken. So, why not try my recipe for pheasant breast in white wine and mushroom sauce. And let me know what you think.
If you'd like to save this recipe, why not pin it for later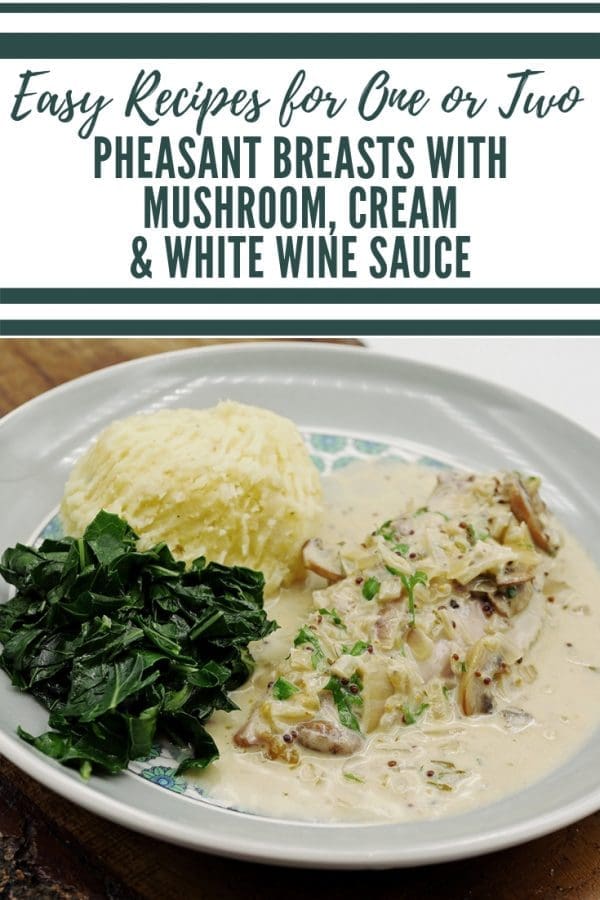 Looking for something different? Here's a comfort recipe for Truffled Mac and Cheese that is perfect for a cold winter's evening. Or how about this classic Beef and Guinness Casserole with Winter Spices and Orange to lift it to a new dimension