Last Updated on May 21, 2022
Anupama Chandrasekhar's Play Triumphs at The Olivier Theatre:
Given the pitfalls in the education of British Colonial History, it's no wonder that all most of us know about Mahatma Gandhi is that he led the peaceful protests for Indian Independence. Words like Satyagraha and Ahimsa are all but missing from the English vocabulary, and mentions of Gandhi's assassin, Nathuram Godse, are completely non-existent. Playwright Anupama Chandrasekhar uses The Father and The Assassin to rectify this disparity. Not as a boring history lesson but as an allegory. Tying in an intricate account of India's past with the thrilling study of an assassin's psyche. This particular 'why-dunnit' feels entirely modern, complete with a slick staging and exceptional cast. It makes for tantalising drama, with all the heartbreak of real ramifications.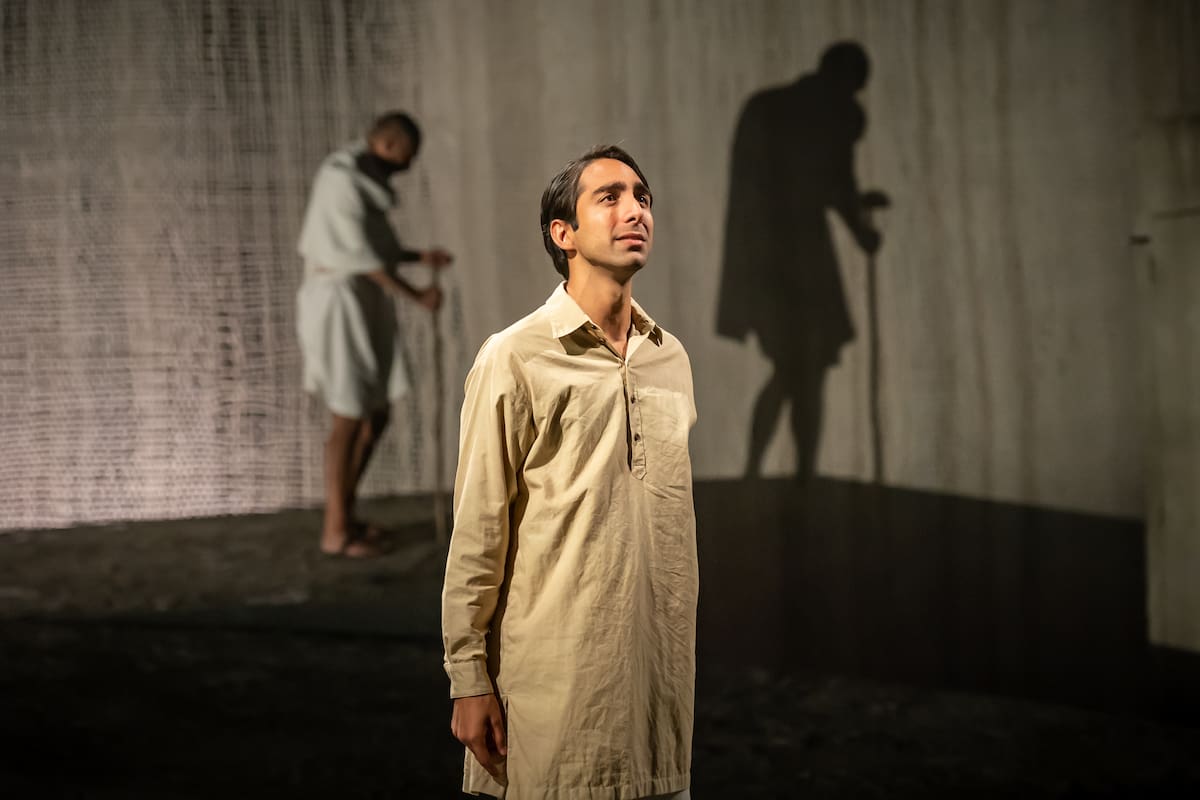 The opening moments of the production are chock full of drama. Booming gunshots, gold bullets dangling from the heights of the Olivier theatre, and Nathuram Godse, played by Shubham Saraf, swerving onto stage via a trap door. The set, designed by Rajha Shakiry, feels Bond-esque. But after all, this is Godse's story, and he gets to tell it his way, complete with cartoon mouth percussion and finger guns. This charming young man stands before us and gleefully announces that he is the man that murdered India's Bapu, Mahatma Gandhi. Pacing the stage, he cheerily explains that he'll win us over by the end. The audience shifts with the sense that they are unconvinced. But even from the outset, Saraf seems to have the audience exactly where he wants them.
Where to start? Godse runs through history and memory like an excited child, occasionally bulldozing ahead but more or less in chronological order. He starts, basically, at the beginning. Nathuram Godse had been brought up as a girl by his orthodox Brahmin parents who believed their male line was cursed after all three of their previous boys died. On stage, Saraf is swiftly decked out with skirt, nose ring and ponytail. He becomes known colloquially by the other children as Nathu and is locally famous for being able to hear the whispers of The Goddess Durga.
Nathuram's struggle with his identity pushes him into Gandhi's path at an early age. Fascinated by Gandhi's successful protest Nathuram runs away from home to seek his hero's company. In Chandrasekhar's play, Gandhi is the first person to call him 'son' not 'daughter'. An understanding is born, Godse begins to be obsessed with Bapu and abandons his connection to The Goddess. After barely making it through school and languishing as a tailor's apprentice Godse's disaffection grows with each defeat. He is left finding solace in the teachings of the radical Hindu nationalist Vinayak Savarkar.
Performances all round in The Father and the Assassin are extraordinary, in conjunction, of course, with stellar directing from Indhu Rubasingham, and brilliantly choreographed sequences from Lucy Cullingford. Paul Bazely plays Gandhi without the patience audiences would associate with him. Witty, bright and fierce, Bazely shows off Gandhi's true fatherly attributes. The 'Hindu-ness' nationalist Vinayak Savarkar played by Sagar Arya, is Gandhi's natural antithesis. Arya executes Savarkar's sharp and brooding personality magnificently, emanating fury with every step. Ankur Bahl, playing both Godse's childhood friend and his boss deserves praise too, being able to balance tension with perfect comedy is hard to pull off, but he does it brilliantly.
The path to Godse's radicalization is not a hard one to understand. The suppression of his femininity is seen as the key turning point in his quest for Savarkar's true 'Hindu-ness'. Having purged every feeling bone in his body in the name of masculinity, was there ever any hope for Godse? Chandrasekhar seems to think so as the only two characters able to infiltrate Godse's narration are Gandhi and his childhood friend Vimala, played by Dinita Gohil. Vimala keeps showing up, defiance sparkling in Gohil's eyes, despite Godse's best efforts to keep her out. She is the tangible reminder of his own shattered connection to traditional femininity, and to Gandhi's movement. In an age where radicalism seems to spread most quickly amongst groups of anti-feminist men, Godse is proven to be just like them. The current political climate is not the focus of Chandrasekhar's work, but references to Nazism, Northern Ireland and Brexit firmly ground its political point. This is what radicalism looks like.
Whilst it may sound like this production is all about the politics, it is far from a snoozefest on current affairs. The Father and The Assassin is as politically engaging as Lincoln and as thrilling as any episode of Mindhunter, this is something beyond its own history – its exceptionally well-executed drama. It's one of those shows that just works. Call it chemistry, call it relevance, call it Shubham Saraf's genius performance, it all ticks together. I will jump at the chance to go again.
The Father and The Assassin at The National Theatre:
Run Dates: 12 May-18 June
Running Time: approximately 2 hours 35 mins including a 20-minute interval
Website: https://www.nationaltheatre.org.uk/
The National Theatre,
Upper Ground,
London,
SE1 9PX