Last Updated on June 9, 2023
Mischief Theatre's play that goes right
If you are after an evening of non-stop hilarity look no further. The Play That Goes Wrong which is playing at Duchess Theatre in the West End promises to whisk you away on a riotous adventure full of good old-fashioned humour.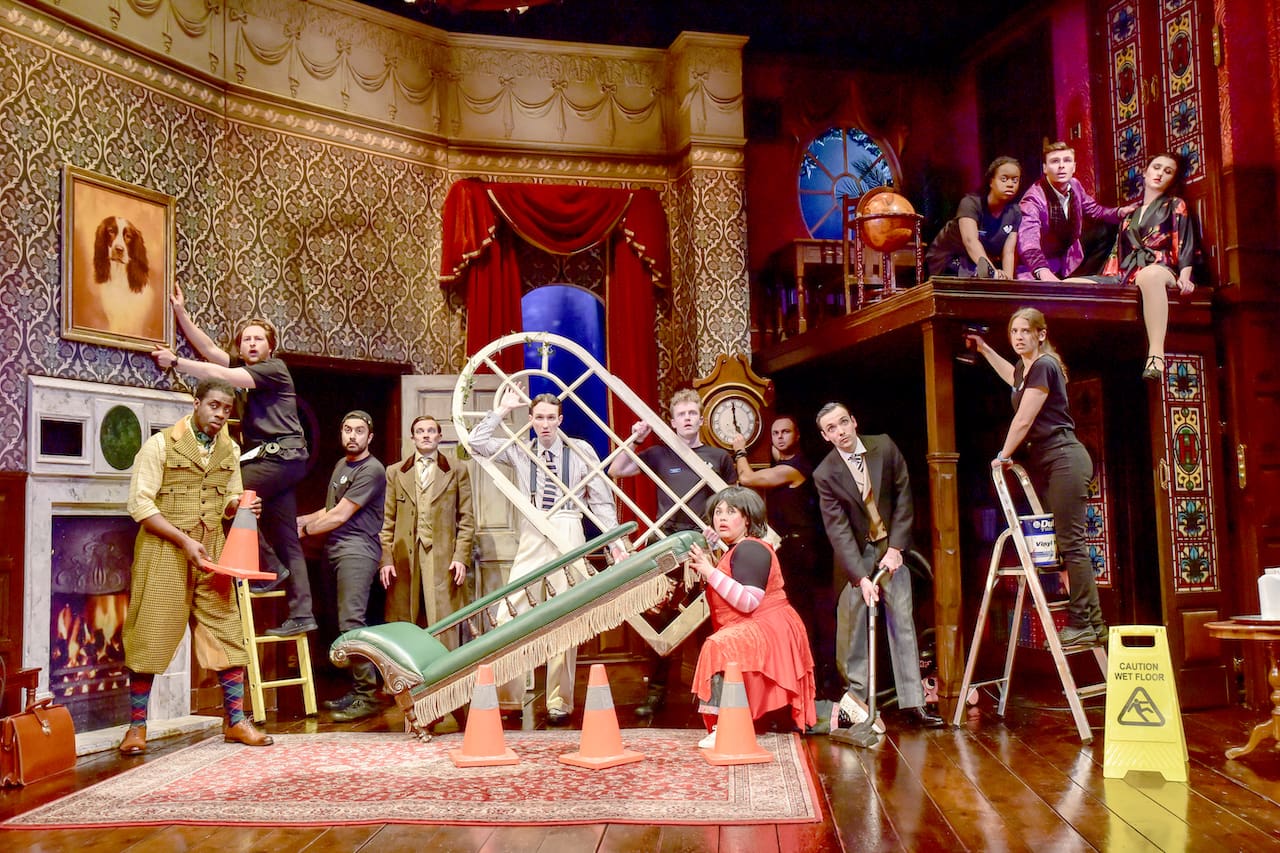 The Award-Winning The Play That Goes Wrong (Olivier Award for Best New Comedy and the Tony Award for Best Scenic Design) has got it very right. Created by Henry Lewis, Jonathan Sayer, and Henry Shields of the renowned Mischief Theatre, a group of LAMDA graduates. The play was inspired by Michael Green's 1964 book The Art of Coarse Acting, and further influenced by Buster Keaton, Charlie Chaplin and Mr Bean.
The production which is directed by Mark Bell premiered in 2012 in the intimate confines of the room above the Old Red Lion Pub in Islington with its inaugural performance boasting an audience of four paying patrons. However, since then, this gem of a production has evolved and flourished and is now one of the most successful comedies in the West End as well as captivating audiences worldwide.
The premise of the play revolves around the fictional Cornley Polytechnic Drama Society's attempt to stage a murder mystery, aptly named "The Murder at Haversham Manor." As the title suggests, everything that can possibly go wrong does go wrong, leading to a cascade of calamities that leaves the cast struggling to keep the show afloat in this farcical play-within-a-play.
The scenario is not dissimilar to Michael Frayn's hilarious play 'Noises Off', which is also set in a theatre and shares the same theme of the gradual disintegration of theatre production, but Mischief Theatre owns this wholeheartedly in the play's marketing, where it refers to it being a mix of 'Noises Off' and 'Faulty Towers'.
As the audience members take their seats there is already an amusing sketch taking place with a hapless stage manager (a very funny Annie Twillhall) and a disgruntled sound operator (amusingly played by Trevor Watson) trying desperately to fix a collapsing mantelpiece before the show begins. Nigel Hook's set has cleverly created the manor house's slightly shabby oak-panelled drawing room complete with a green leather chaise longue complete with thick red velvet curtains, a grandfather clock and a mezzanine library which provides the perfect backdrop for the ensuing chaos, from doors that won't open to collapsing stairs, And Roberto Surace's 1920's costumes are a perfect fit.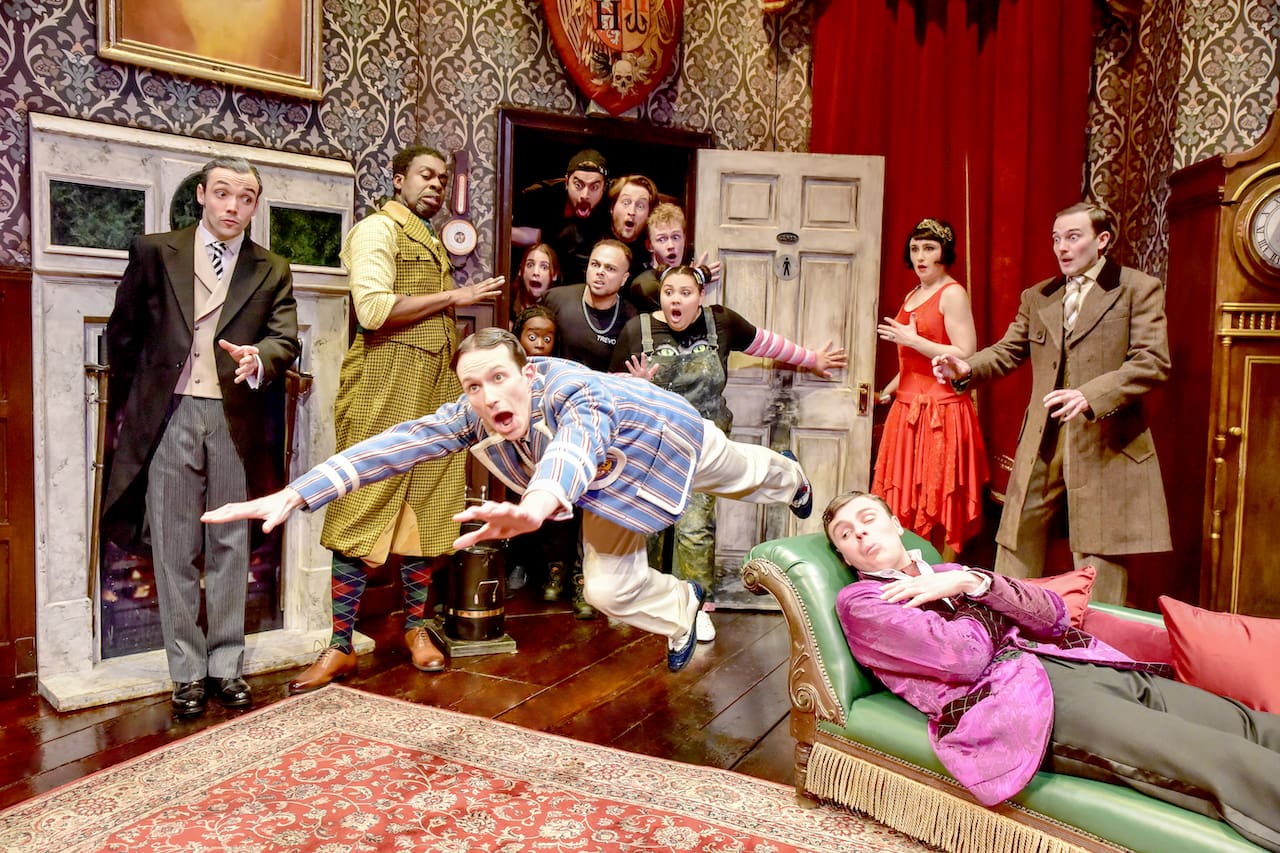 What sets this play apart is an exceptional execution of physical comedy. The talented ensemble masterfully executes perfectly timed mishaps, unexpected accidents, and a seemingly never-ending series of misfortunes that leaves the cast struggling to keep the show afloat. From faulty props and set pieces collapsing to actors missing their cues and flubbing their lines, each moment is orchestrated with precision, ensuring an uproarious response from the audience throughout the show.
For most of the eight members of the new cast, this is their West End debut, and they have revelled in the opportunity, creating impeccable chemistry, incredible comedic timing and throwing themselves (literally) into the performance, each taking a vital role in making The Play That Goes Wrong an absolute riot. All deserve a mention… Keith Ramsay plays Dennis, who makes a marvellously animated Perkins the Butler, Ross Virgo as Max and Cecil Haversham, who revels in the attention of the audience and performs some brilliant slapstick, Rolan Bell is a joy as Robert and Thomas Colleymoore while Lucy Doyle as Sandra makes a delightful meal of her role as Florence Colleymoore, Chris as Inspector Carter and the Director is convincingly played by Daniel Cech-Lucas, and finally, there is a lovely performance from Luke Dayhill as Johnathan and Charles Haversham.
The Play That Goes Wrong is an absolute delight and a must-see for comedy fans. It offers a night of pure entertainment and laughter right up to the final curtain. Whether you're a theatre aficionado or simply looking for a good laugh, this play is sure to leave you in stitches.
Duchess Theatre,
3-5 Catherine Street,
London,
WC2B 5LA
Looking for something different – and yet, not so different. The Comedy of Errors is currently showing at The Globe or you could catch Groundhog Day, the musical – just opened at The Old Vic