Last Updated on August 6, 2023
A Covent Garden favourite – Le Garrick still offers great bistro classics.
If you are visiting London for the first time, picking restaurants that have stood the test of time can be challenging. The shabby chic trend together with the very fabric of London buildings, many of which are hundreds of years old means that newer places can appear to have been there forever. But, some of them, like Le Garrick, are genuine classics that have been around for a while and are really worth keeping in your address book for those moments when you just need that kind of familiarity and comfort. Having moved to London straight from University, way back in 1982, Le Garrick really fits the bill for me – somewhere I fondly remember from times hanging out in Soho and Covent Garden when I was in my 20s.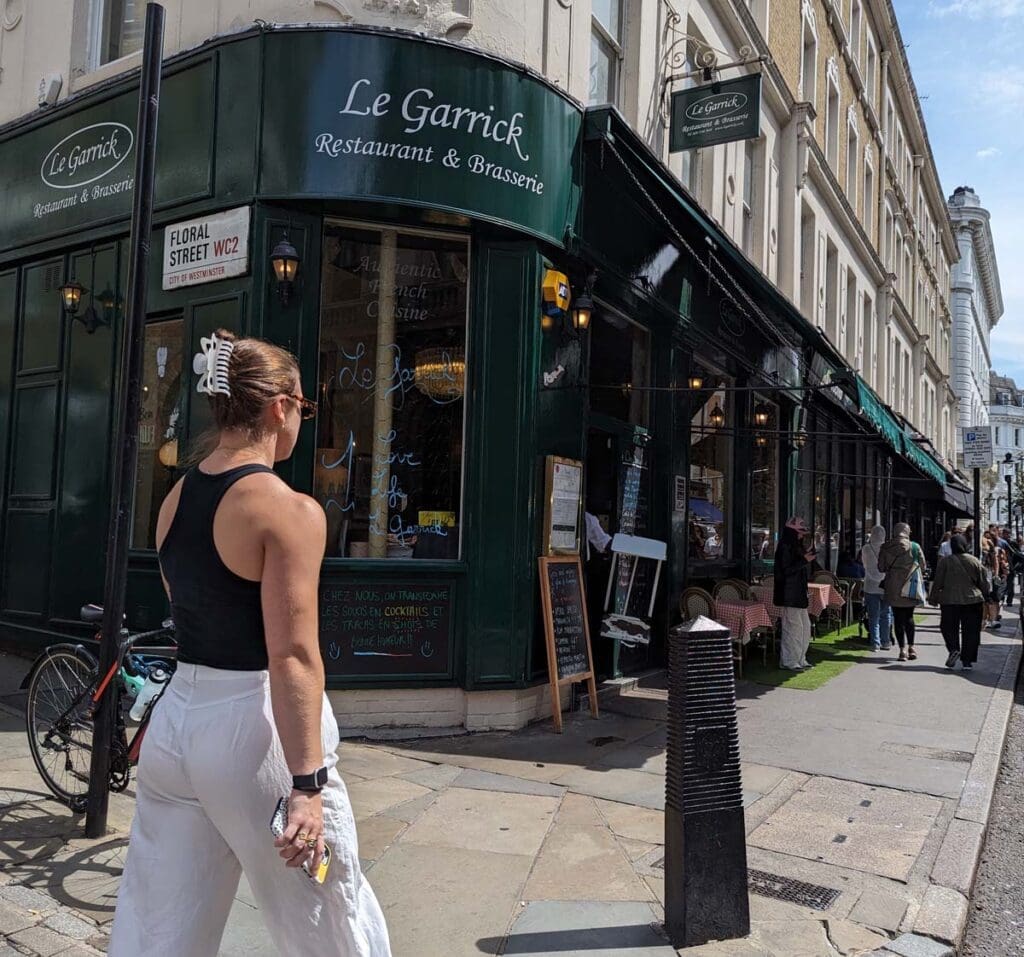 Le Garrick opened its doors in 1987 and has remained true to the original concept, serving classic French bistro fare in a setting that predates the fashion for vintage décor. For me, it's like the best kind of old friend. Somewhere that when it's wet and rainy I can hide away and enjoy a pre-theatre set menu with two courses for just £17.75 or an Onglet with Béarnaise and frites for just £16.50. It would be rude not to!
It's a compact venue – a few tables outside in summer, a handful of tables on the ground floor and the cosiest of basement spaces, and it's somewhere you will find really authentic regional French food and a largely affordable French wine list (there are a few 'fine and rare' options by the bottle). The only non-French wine on the list is Lunetta Prosecco but for just a pound more a glass you can have a crémant, méthode traditionelle AOC, Cuvée Signée, a Loire Valley chardonnay blend that is perfect for an aperitif. That's, of course, what I picked – and thoroughly enjoyed sipping my way through the fresh and lemony fizz.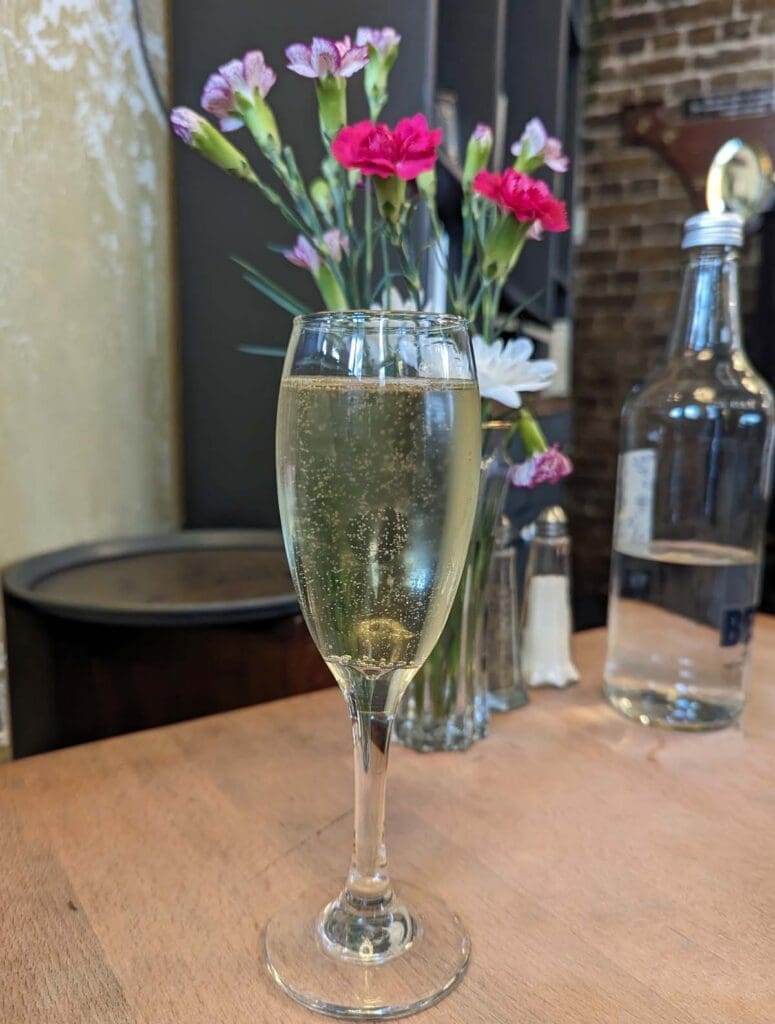 The crémant worked pretty well with the Noix de St Jacques (scallops) – plump and perfectly cooked with a buttery golden sear and served on a bed of rocket with a drizzle of balsamic too.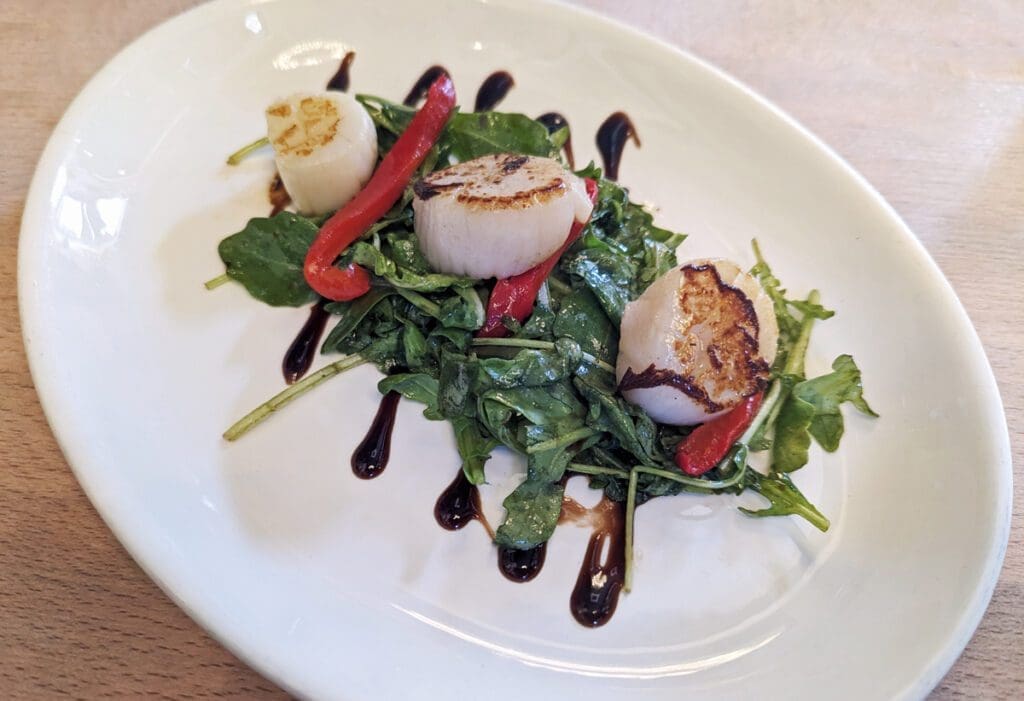 My companion ordered Escargot de Bourgogne which appeared in a classic presentation laced with garlic butter and fresh parsley. A little salty she thought, but you might consider that just the traditional French style. I stole one of the six and found it nicely 'unrubbery', with just the right amount of bite. I'd have ordered the same had it not been for the knowledge that I'd have needed to eat my way through the accompanying baguette dipping it in the garlic butter juices. Not the best idea if you are trying to watch your weight!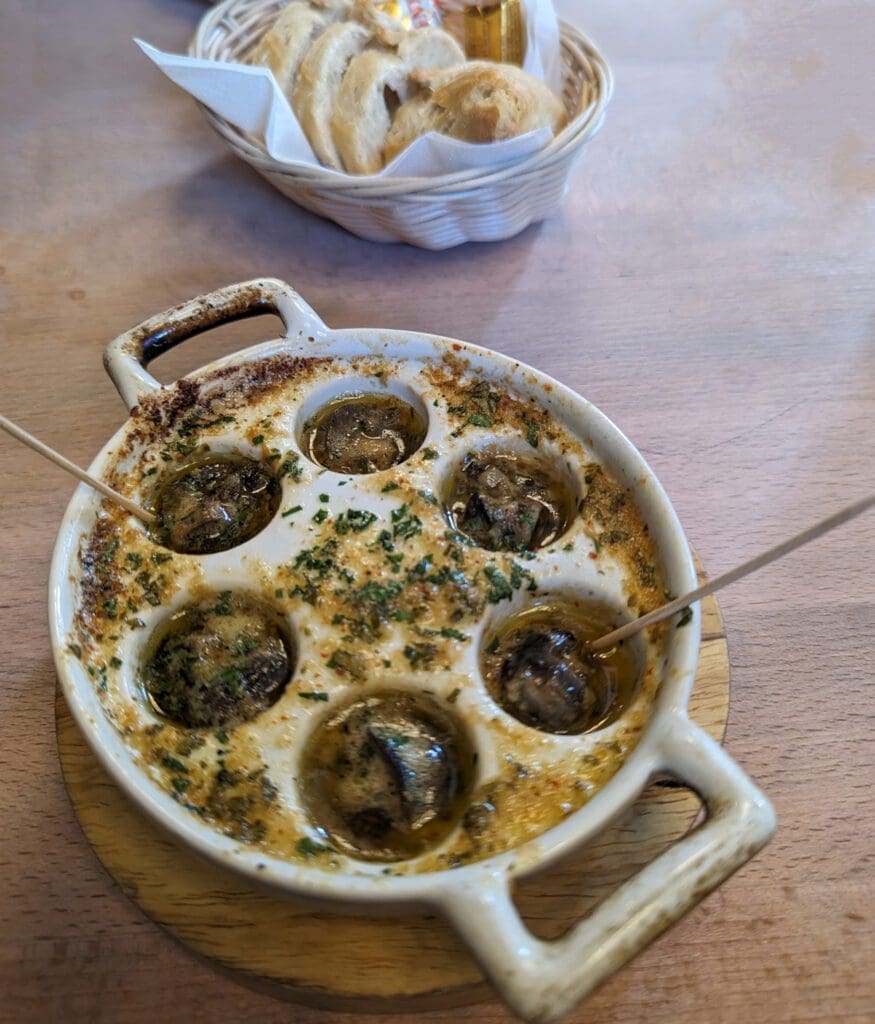 Her hollow legs enabled her to order the 'Authentique cassoulet de Toulouse' – one of those hearty rural French dishes that feed you for the day with one bowlful. Duck confit, pork belly and Toulouse sausage served with white haricot beans. It's a dish I love – and the perfect food to order at Le Garrick where I suspect they've been using the same recipe since they opened. Walking around London for the day? this will keep you going for at least 30,000 steps.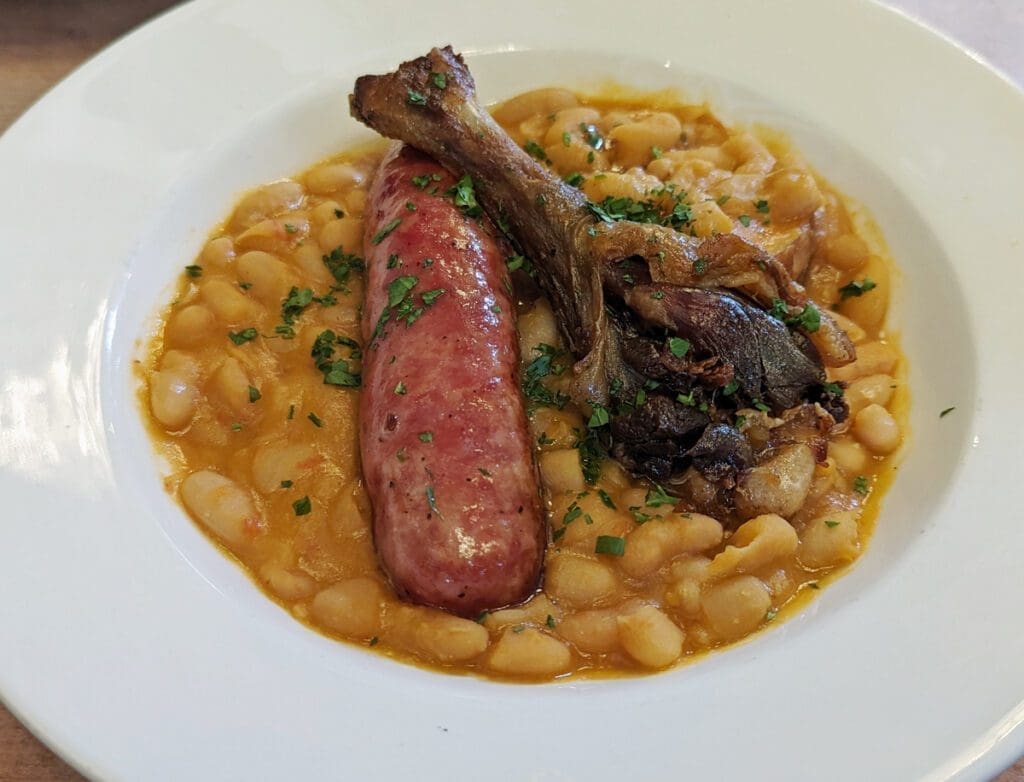 There are plenty of lighter options too though. I picked the Plat du Jour, a fresh grilled seabass fillet served with tomato salsa on a bed of new potatoes. A perfect pairing with a glass of Selon Létang Viognier. The perfect summer serve, I'd happily eat this one again, though I was tempted by the coquelet au citron and might just pick that next time.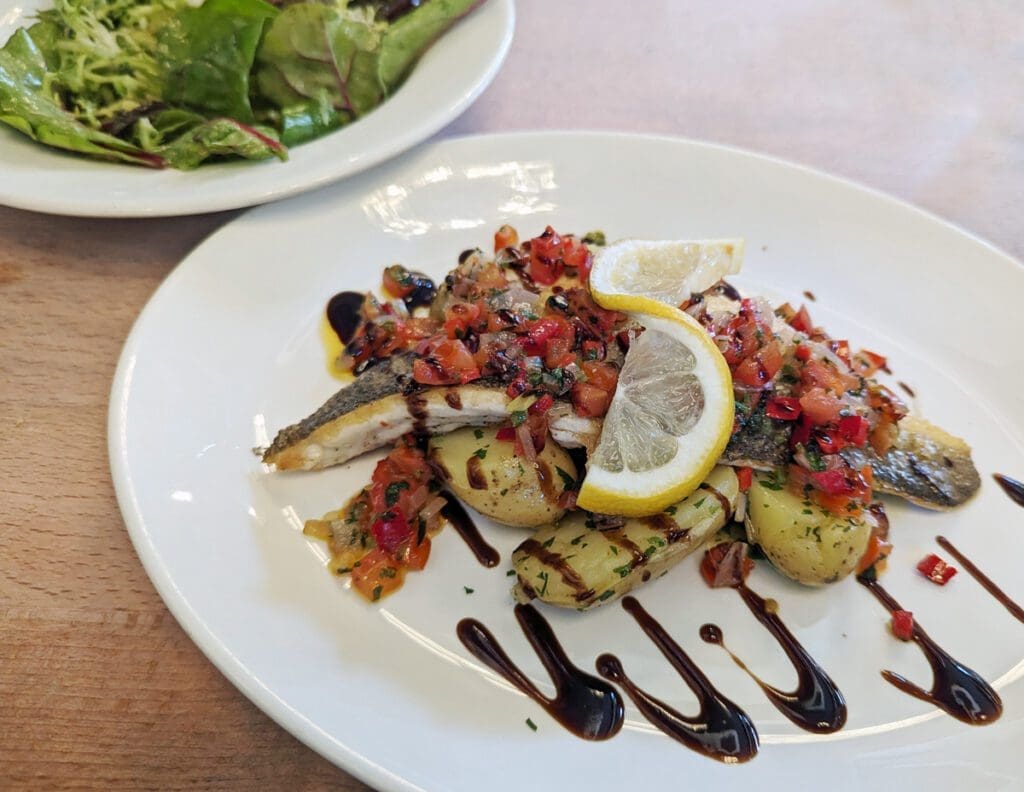 We shared a green salad and some buttery spinach. Close your eyes and you could be in Paris, Dijon or Lyons. It just feels French.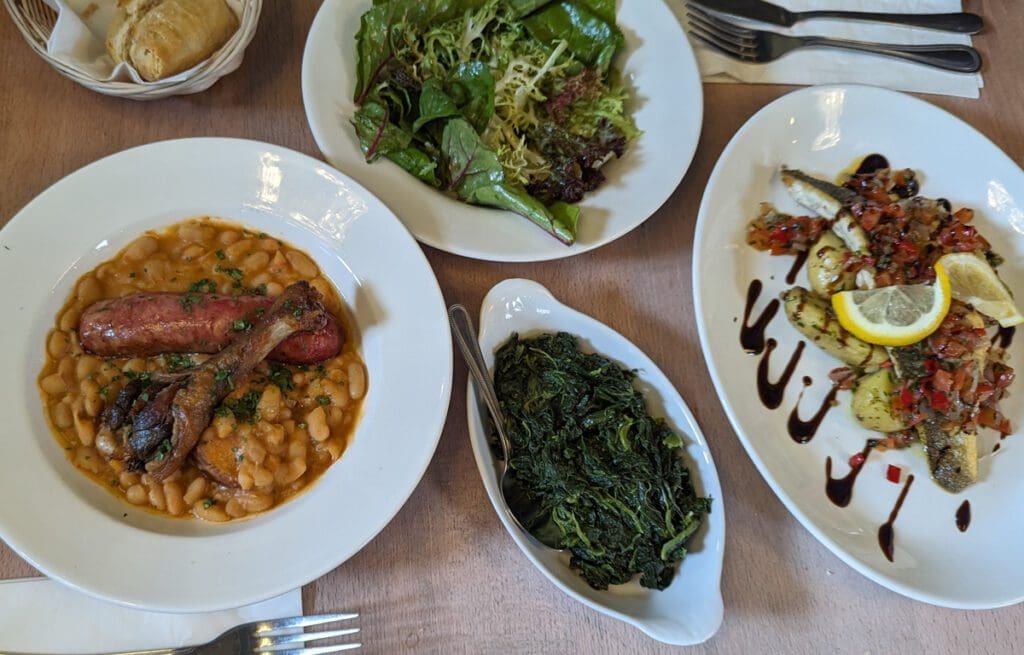 That extends to dessert where, if you happen to be struggling to choose, there's the ultimate French option of a Café Gourmand. Not a tarted-up cup of coffee, this is the eminently practical solution for someone who just can't choose what to have. You get a little bit of lots of the things on the menu – and a few others too. In the case of Le Garrick, I had a tiny creme brulee, a little pot au chocolat, a madeleine, a cannelé, a tiny piece of the tart au citron that I'd been eyeing up and a couple of langues de chat. And a cup of coffee.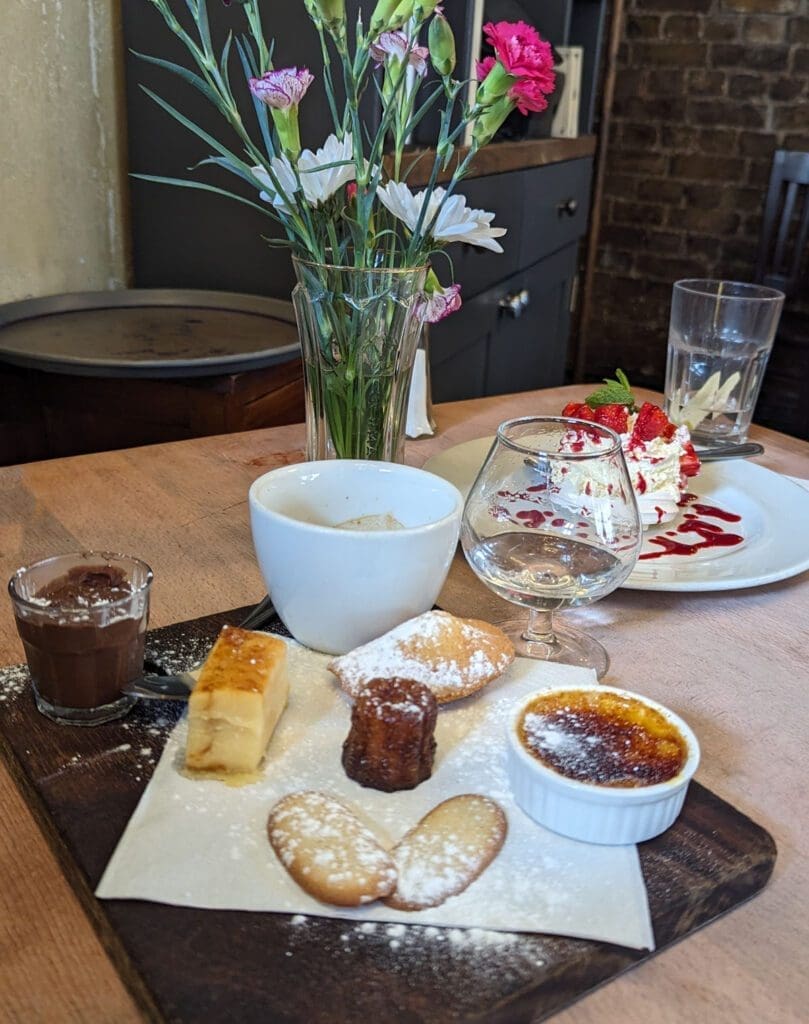 It was an easy way to get over my disappointment that the pavlova was a strawberry one – so something I simply couldn't order. Not to worry – that was my companion's choice – and it arrived looking stunning and tasting just as good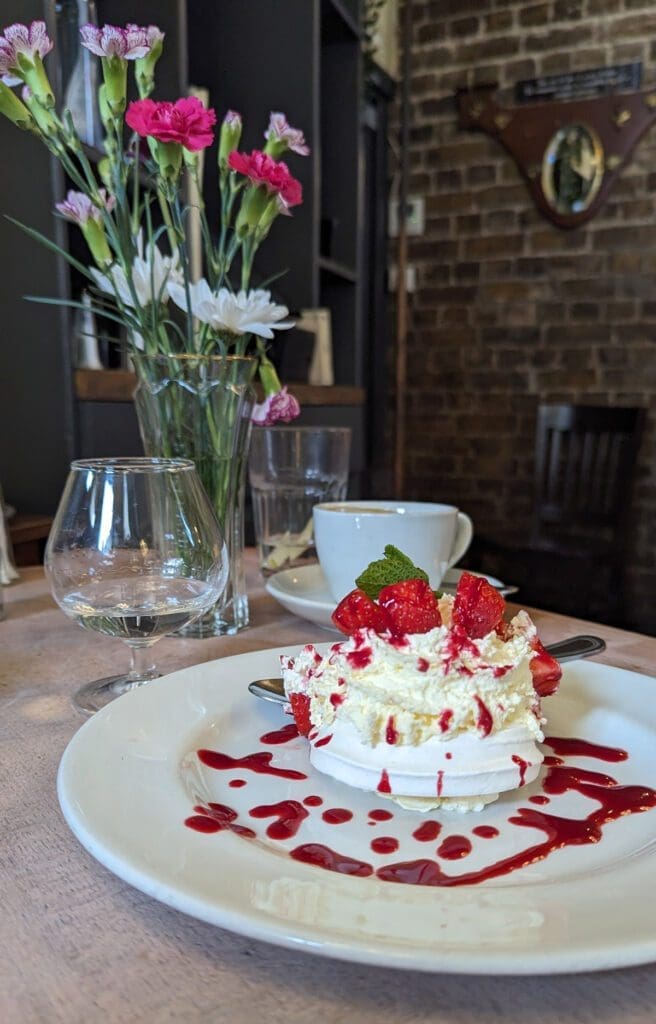 Le Garrick is named after the street where it is situated, which in turn, rather appropriately takes the name of a famous English actor from a French Huguenot family, David Garrick, who lived in the area in the 18th century. For me, it's the perfect place for pre-theatre dining – somewhere I can enjoy good wine by the glass and some classic French bistro food that is right in the heart of theatreland London. It's the kind of place where I'll always feel comfy and where I know I won't be paying tourist prices – even though it's very central. Le Garrick is also a great place to meet up with friends. With a timeless menu, everyone should find something that suits them – and the friendly staff make you feel right at home.
10-12 Garrick Street
Covent Garden,
London WC2E 9BH.
Open all day from midday, Monday to Saturday. Closed on Sundays