Last Updated on November 21, 2020
Classic Port and Tonic – a White Port Cocktail.
While the sun is out, with Easter approaching I'm on the hunt for cocktails that are easy to make and really refreshing. A white port and tonic cocktail ticks so many boxes for me, not least because it's a classic aperitif from one of my favourite countries, Portugal. Of course, in a perfect world, I'd be in Porto, sitting on the banks of the Douro in the sunshine, sipping a white port and tonic and watching the world go by. Or taking a cruise down the Douro to the vineyards and wine houses, perhaps stopping off at one of the wine hotels of the Douro. But, since that's not possible right now, I'm content to be here, in my garden, making the most of spring and drinking a classic port and tonic cocktail in the sun
Cálem is a classic Port House, founded in 1859 by Antonio Alves Cálem and still family-owned, now run by the fourth generation of the family. If you are lucky enough to visit Porto, it's one of the port houses open to the public and you can visit the museum and winery in addition to enjoying a tasting. Like all the cellars, it's in Gaia, near the Dom Luís I Bridge.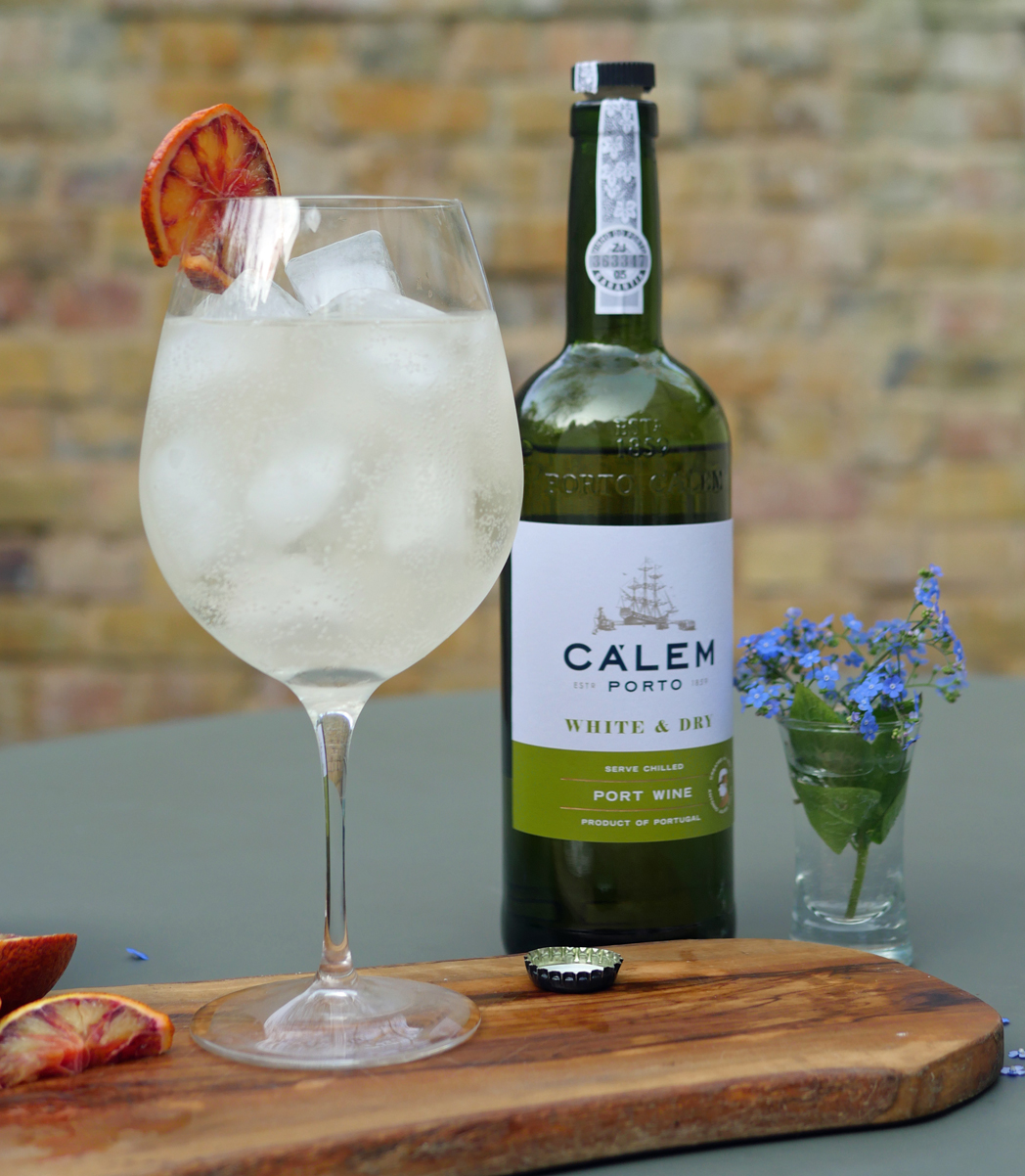 The Cálem fine white and dry I have in the fridge at the moment is made from a blend of wines of different harvests that have been matured to different levels in large oak barrels and stainless steel vats for a minimum of 3 years. First, the grapes are macerated, then slow fermented in stainless steel vats at a low controlled temperature (between 16 and 18c) to ensure a fresh aromatic style. Fermentation is stopped by adding grape brandy to create a fortified wine at 19.5%.
White port is perhaps less well known than classic ruby port, the sort you'd generally sip on with your cheese. It's made in Portugal from indigenous white grapes. Those used include: Gouveio, Moscatel Galego, Rabigato, Viosinho, Codega and Malvasia Fina. Like any port, it can only be made in the Douro Valley in Portugal, although versions of the drink are made in California, Australia and elsewhere. A White Port and Tonic, or Porto Tonico, is a ubiquitous drink in Portugal and one which deserves to be better known here. Served with ice and a slice of citrus it's the perfect apéritif and, because you use a ratio of up to 2 parts tonic to 1 part port, it's a relatively low alcohol drink too. You can make it a bit stronger and you still have something around 10% ABV – and you can use whatever garnish you happen to have to hand – mint, cucumber, lemon, orange or lime are all contenders. The perfect white port cocktail.
Of course, easy cocktails work well for me. My own white port and tonic is made with a blood orange garnish and zest. Once the blood oranges finally disappear from the shops I'll be using lemon instead – and I might just experiment a bit to see what other white port cocktails I can create.
In the meanwhile, here's how to make your own white port and tonic cocktail. You don't need a cocktail shaker for this drink – just plenty of ice and a large glass.
White Port and Tonic Cocktail
White Port and Tonic (Porto Tonico) - the classic aperitif of Portugal
Keyword:
Aperitif, Port, Summer Cocktail
Ingredients
75

ml

Chilled white port

75

ml

Good quality tonic water

Zest

1/2

Orange or Lemon

1

slice

Orange or Lemon

Ice as required
Instructions
Fill your glass with ice-cubes

Top up with tonic water to taste

Zest half an orange into the glass

Garnish with a slice of orange
Recipe Video
You can cut the calories down a bit by using slimline tonic and by keeping the amount of port you use to a lower ratio than in this recipe where I recommend 1 part port to 1 part tonic. If you are trying to lose weight, 2 parts slimline tonic to 1 part port (e.g. 100 ml tonic to 50 ml white port) will be less than 100 calories – and I promise you it will still taste delicious. And, for me, it takes me right back to Porto – the perfect escape.